WHAT IS MEDICARE?
Medicare is health insurance for:
People 65 and older

People under 65 with certain disabilities

People of any age with End-Stage Renal Disease
WHAT IS A MEDIGAP POLICY?
Although Medicare may pay a large part of your health care expenses, it does not pay for all of your expenses. This is called a "GAP". A Medigap policy also known as "MEDICARE SUPPLEMENT INSURANCE" is a private health insurance that helps supplement Original Medicare. This means it helps cover the gaps that Medicare doesn't cover.
If you have Original Medicare and a Medigap policy, Medicare will pay its share of covered health care cost and your Medigap policy pays its share.
Medigap policies must follow federal and state laws designed to protect YOU, and policies must be clearly identified as "MEDICARE SUPPLEMENT INSURANCE". Medigap insurance companies can only sell "standardized" Medigap policies identified by letters A thru N.
Find the right Medicare plan for you in the graph below.

(You can download the graph here)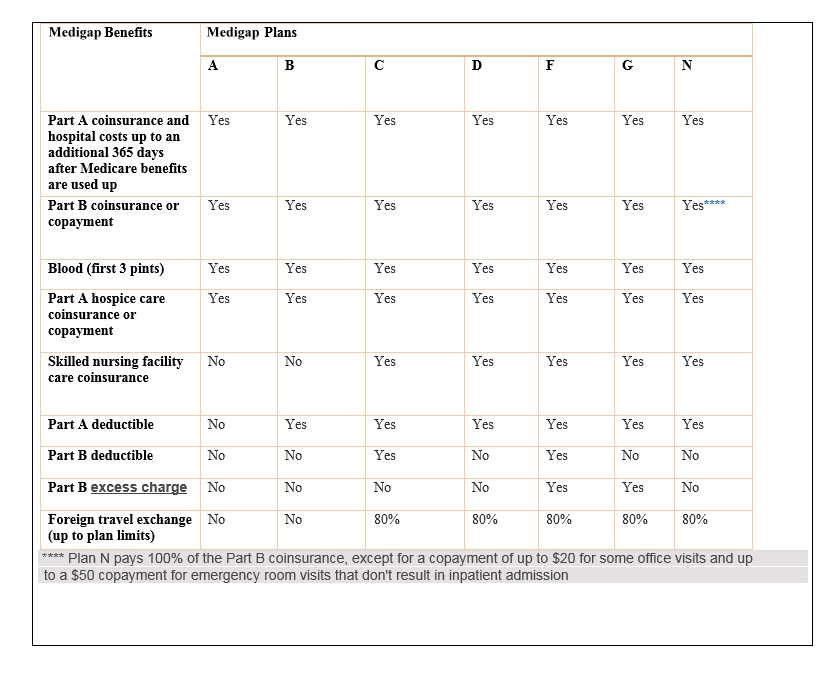 WE ARE FOCUSED ON WHAT MATTERS MOST….YOU